Yesterday, on the 18th of November, I had a pleasure to participate in the Next Door Family EU project. Here, in Malta, the project brings together Maltese and non-EU families to have a lunch on a particular date. Every meal is attended by one Maltese family (which can be either a host or a guest), one non-EU family and an assistant.
Information about the project can be found here: http://www.nextdoorfamily.eu/ma/index.php/en/2-project/1-next-door-family-project-eu.
I learnt about the project from a friend of mine a week and a half before the date. The idea sounded very appealing, indeed, though, due to the lack of free time I could apply as a guest only. To be honest, I felt a pity about 'poor hosts' who would have to prepare a meal for me and my partner, as we are both very selective in food, but in different ways . Both of us are vegetarians, he cannot even stand smell of sea food (which I love); one would have to torture or to starve me before feeding me pasta, French fries or any processed food – also so popular among Maltese people – are out of the question. The organisers let me know, the couple who applied as hosts were seriously worried (let's say, frustrated, as they could not decide what to cook). Perhaps, it was the food frustration I gave to the supposed hosts, that led to changing of the plan. Three days before the event, I got to know the Maltese couple could not host us. Apparently, there was another guest couple who could not manage to arrange the lunch with their Canadian hosts. The news left me with two options: to become a host myself or to postpone my participation until the next time. And I chose the first option. The project really looked meaningful and participating in it was irresistible.
Getting ready to host the Maltese couple and the assistance was quite a challenge, considering other ongoing activities we were involved in. Preparation of a traditional Russian meal takes a lot of time and effort. A festive table must be covered with food and drinks, and new dishes and bottles are placed as soon as previous disappear – a pleasant succession. Not only the lack of time was challenging in my case, but also lack of space in the fridge to store prepared dishes, lack of pots and lack of space in general. These conditions forced me to sacrifice the possible great variety of salads, pies and other yummies that could have been cooked otherwise. The vegetarian meal was planned with love and care, though. Russian salad Vinegret (sour cabbage, boiled beetroot, carrots, carrots, salted cucumbers, onions and peas) and Maltese brushcetta – for the start; potato mush, aubergine towers, mushrooms in batter, slices of pepper – for the main course; Russian sweets and Maltese roly-poly as a desert. And, of course, in the centre of the table, on the improvised Maltese flag made of white and red napkins, there was a selection of drinks. Russian soft drinks, vodka "Russian Standard" (oh, that smooth, soft, liquid fire!), Hennessy, red and white wines (that we did not even managed to get to) were waiting to welcome my guests.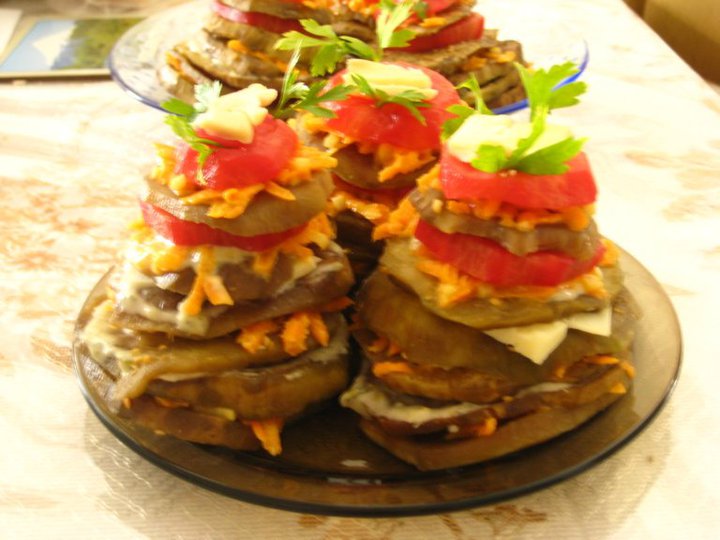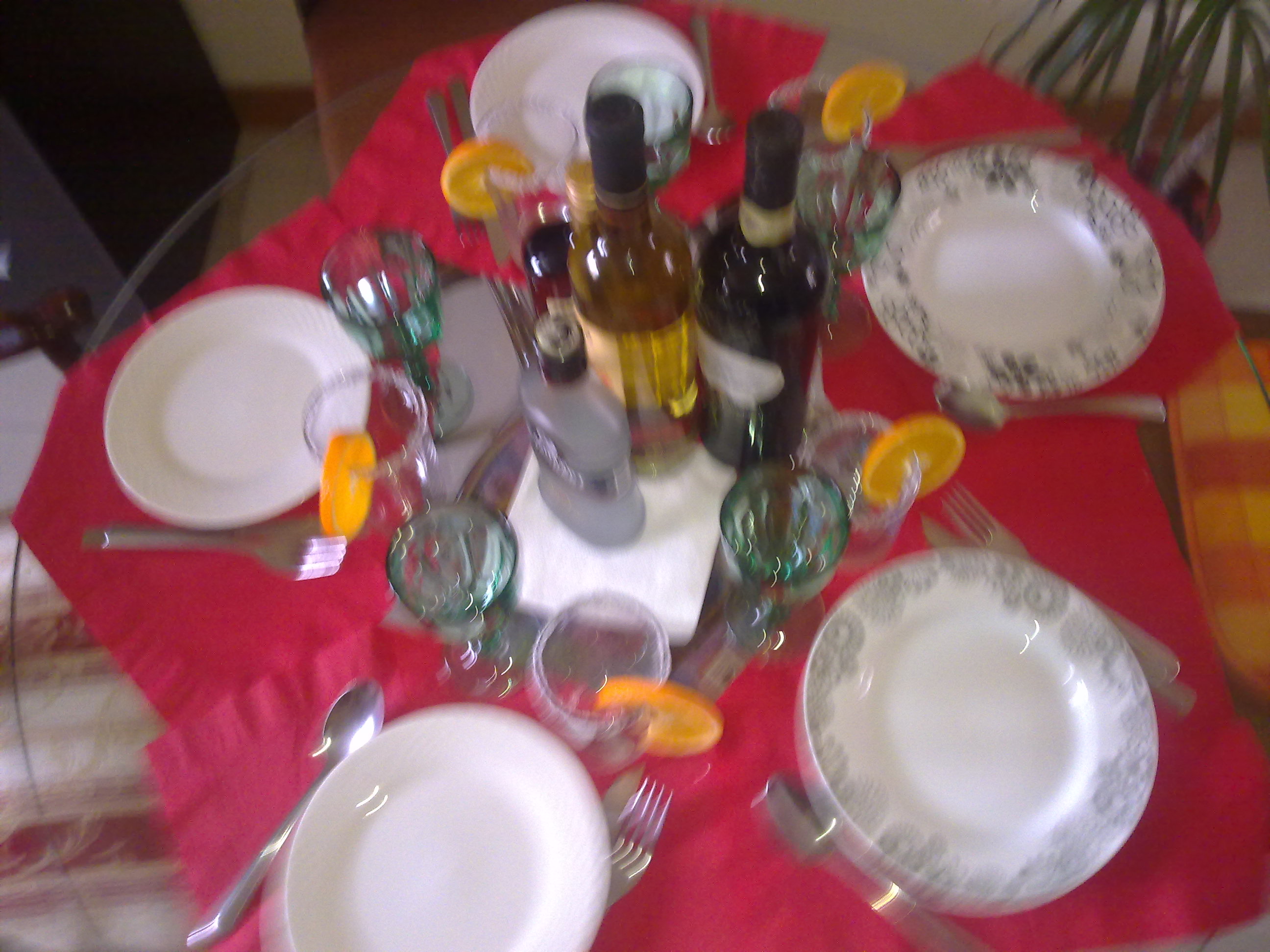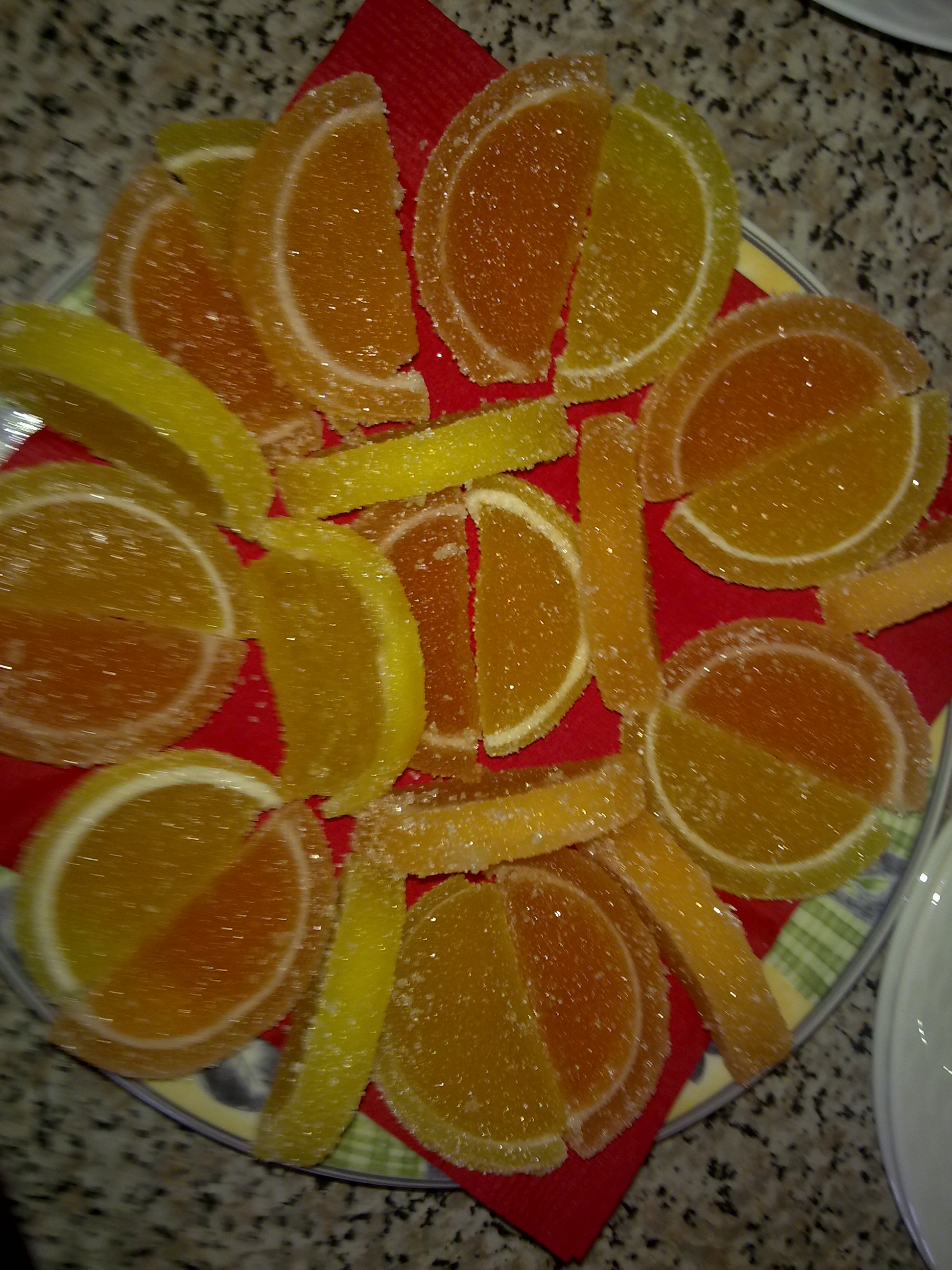 The guests, Mary-Rose and Joe from Tarxien, assisted by a sweet British young man Daniel, came to my apartment with a smile, an open heart and some more food (rice salad from Mary-Rose, and humus from Daniel). The lunch could not be better. When the starters were over, we toasted with vodka to our meeting ("Za vstrechu!"). "You have to drink it in one gulp!" I warned my guests, and they showed class, I must say. After a while, proceeding with the main course, we toasted to friendship ("Za druzhbu!") with some Hennessy. Deserts were served together with the special tea (black tea leaves, infused accordingly to the Russian tradition).
Russian romances were playing on the background, and we were talking as if had already known each other for years. So many subjects were discussed – life in Malta and politics, health, Maltese and Russian wedding traditions, customs and hospitality. We even sang to each other – Mary and Joe sang in Maltese, and me – in Russian. The atmosphere of warmth embraced us so much that we even forgot to take a photo of us around the table :).
Speaking about the project in general, I believe, such activities cultivate understanding, tolerance and assimilating in the new home country better than slogans and politically correct statements. Nothing is so powerful than the experience of meeting people from a country with different traditions and realising how much in common there is between us all. Yes, we speak different languages, cook different meals, but the language of friendship does not need translation, it is understood by everyone.
N.B. If a Japanese family living in Malta decides to take part in the project, may I take liberty to propose myself as a guest? 🙂