Once I was told how you would never stop looking up when strolling around New-York. I cannot tell – I have never been to New-York – but I trust it must be exciting. What is stopping you from never ceasing from looking up in Valletta, however? New-York is far, Valletta is close and balcony-spotting there is fun full of discoveries.
Soon after the selection of Valletta's most beautiful balconies had been complete, a new portion of new unique finds accumulated. It is difficult to spot two identical traditional balconies in Valletta unless they belong to the same palazzo. The variety of balcony types in Valletta is the beautiful side of Malta's architectural anarchy. St. Ursula and Archbishop street are particularly rich in unique architectural features.
Click on the map below for a virtual balcony tour or access the full map.
[googlemaps https://www.google.com/maps/d/u/1/embed?mid=1exMpIKbFRWOVG5sDyOXuLicg0i4&w=640&h=480]
Ten unique mini-gems
1.  Red Dwarf
Have you ever seen a wooden balcony-resembling structure smaller than this dwarf in Archbishop street? This curious structure is a mix between a muxrabija window and a balcony. One can only wonder whether it serves any purpose apart from decorative and what it feels like for an adult to stay in there.
2. Little Green Juliet
Balconettes, barely protruding from the wall structures, also referred to as Juliet balconies, are not uncommon in Valletta. This one in St. Dominic Street is the smallest in size.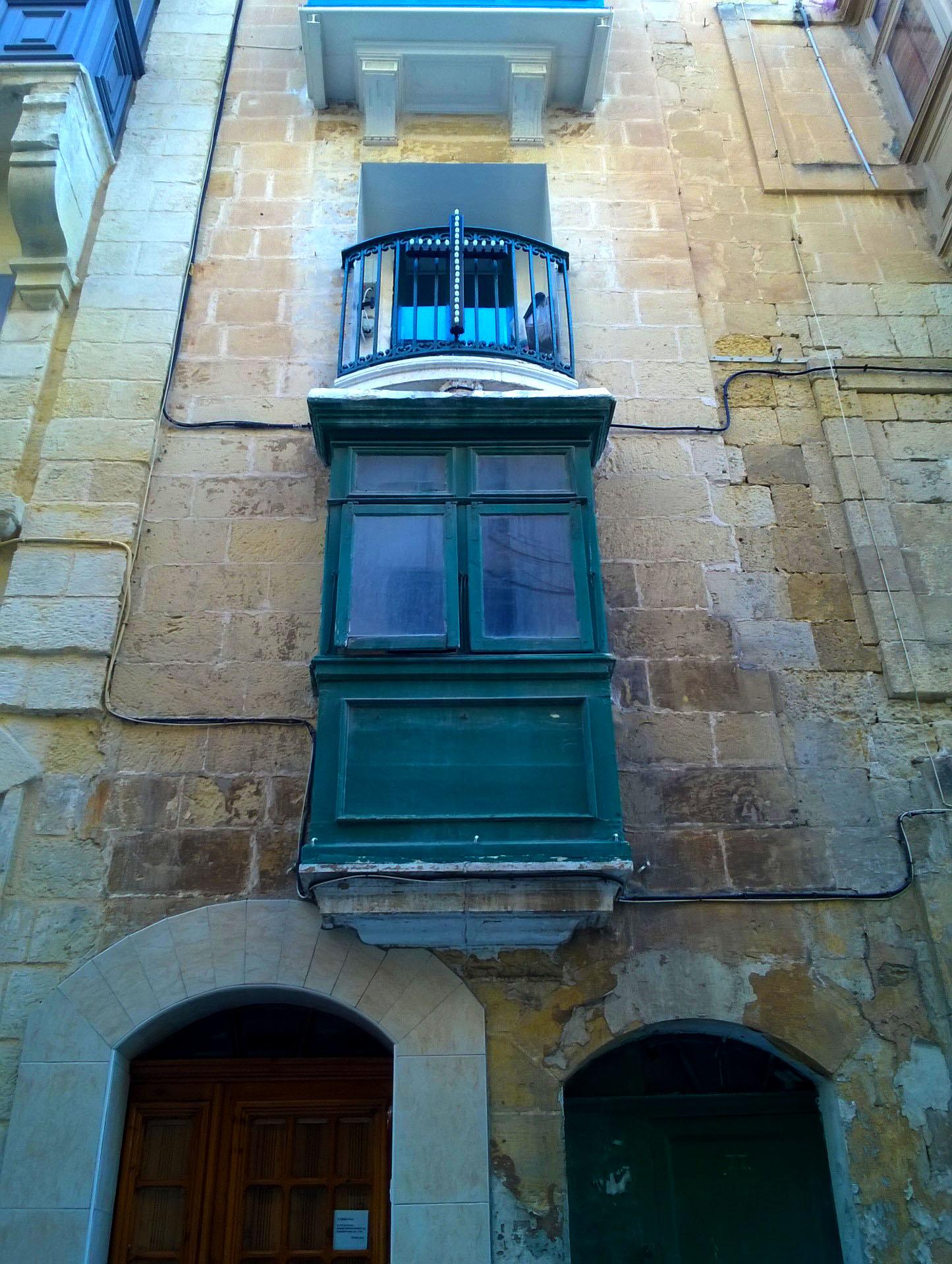 3-5. Curved elegance
Although all unique, these three balconies have one thing in common – curved shape. The green balconette's rounded base is almost indistinguishable from the decorative edge on the facade. With its curved shape, tiny size and the elaborate metal railing, the balcony is fit for a doll's house.
The white elegantly curved balcony in lower West Street is similar to its green sibling except it protrudes a little more prominently from the wall. Squeezed between much larger balconies, it appears out of place. It is one of the many symbols of the architectural anarchy in Malta.
The all-wooden blue balcony on Archbishop street is a surprising discovery if you look up every so often while strolling around the baroque city.
6. Medieval Grey 
This balcony forms part of the newly restored house in lower West Street. Its imaginative roof design is unique to Valletta – so much it resembles Medieval coffer ceiling with its essential decorative elements.
7. Beige Box
Even though aluminium window frames ruin its authenticity, this balcony in lower Republic street has its particular humble charm. Another asset of the architectural anarchy in Malta.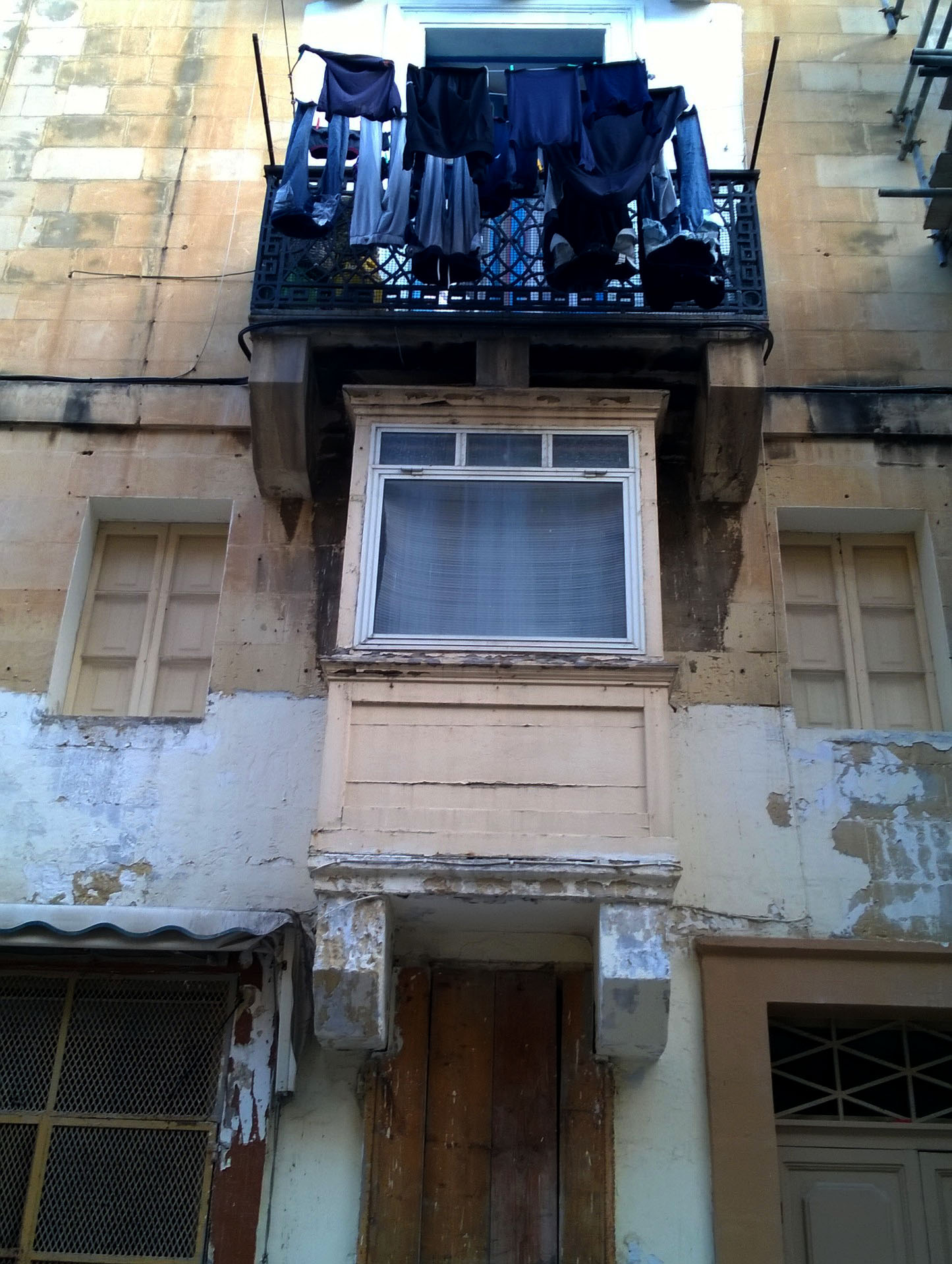 8. Yellow nest-box 
Although this yellow balcony on the corner of Old Mint and Archbishop streets is a little larger than a bird's nest-box, it is equipped with clothes lines.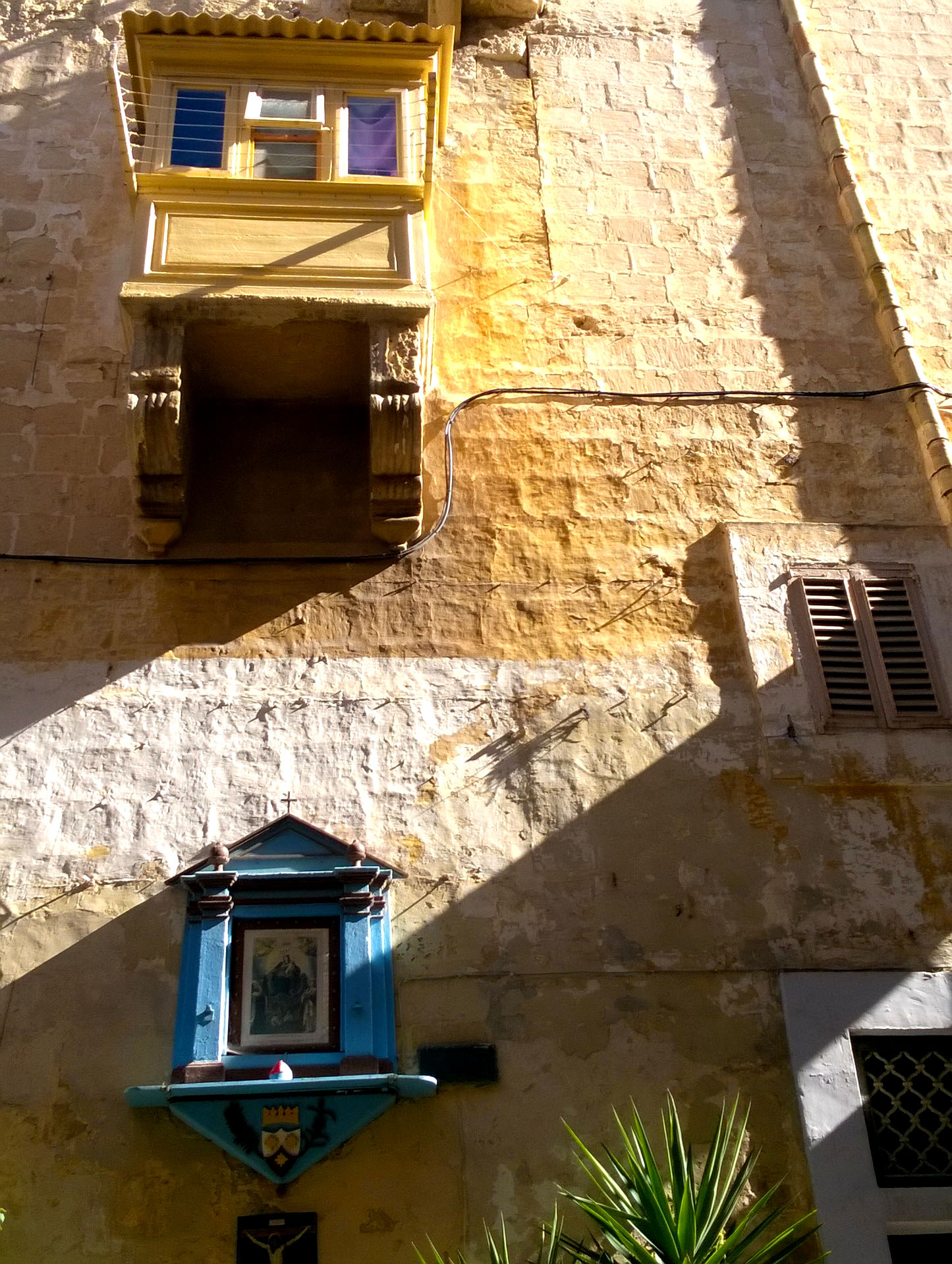 9-10. Little neighbours of Casa Rocca Piccola
Have you ever noticed these two triple-window miniatures in the close proximity to Casa Rocca Piccola? Indeed, strolling around the baroque city with your head up is worth it.
Double-window miniatures
Double-window balconies are scattered around Valletta. A couple of them, twin brown balconies in St. Ursula Street, were newly restored.
Triple-window miniatures
Triple window mini balconies are most concentrated in lower Valletta, especially lower Republic street. From all the balconies of various shapes and colours one is especially particular. Spot the little green balcony in Sappers Street, part of the abandoned house, and you will notice the flushing tank right above it. Overlooking the Hastings Gardens, this must be a toilet facility with best view on the island.
Just a few inches deep: Valletta's balconettes
Wooden balconettes are intriguing. Although their shape is similar to the other traditional balcony types, they barely protrude from the facades. A wooden balconette is a teasers of a balcony – it only mimicries proper balcony appearance while lacking its functionality. You can spot a few balconettes in lower Valletta, around Old Hospital and North streets.
Found it interesting? Subscribe to the blog updates and like the Malta Sketches Facebook page for more articles about various things Maltese.